CLICK HERE FOR MY OFFICIAL NFL RAVENS BLOG
MY UNEDITED BLOG IS BELOW.
THE NFL HAS AN IMAGE TO UPHOLD. SO DO I.

Since I'm a transplanted Ravens fan living in Los Angeles, there was no way I was missing this weekend's game.  It was the home opener for the San Diego Chargers and Ray Lewis made sure the birds flew outta there with our second W of the young season.
This is my third Ravens vs. Chargers game in San Diego and each time I've headed down to tailgate.  This time was no different.  My crew was in it to win it!  Now, I've done my share of tailgating and San Diego…you need to step it up!  Flip flops and sushi??  That's what you're bringing to the table? Unacceptable.  Tailgating is all about claiming your spot on the asphalt and throwing down!  I've seen people steaming crabs in Baltimore, I've seen guys BBQ bison in Buffalo, hell, I've even seen a pregnant woman gut a deer in Pittsburgh!  But sushi?  That's a damn shame.  And I LOVE sushi!  I'm a seafood guy.  I love fast women too…but I'm not bringing one to dinner at my grandma's house.  Feel me?  What I'm saying is, there's a time and a place for everything.
Check out some of the shots I got in San Diego.
WHERE'S THE BEEF?
On our fuckin grill. I told you we weren't messin around. Guess what WASN'T on our menu?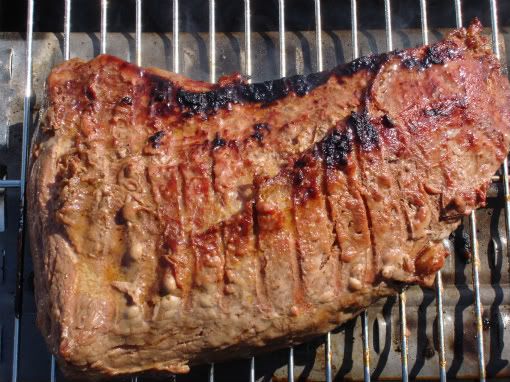 CHEF WHAT?
Not sure what this "chef" was cooking up but I'm sure as hell not eating anything he makes. I overheard him say something about a "secret ingredient" and I gagged. Where'd he wash his hands after he was done?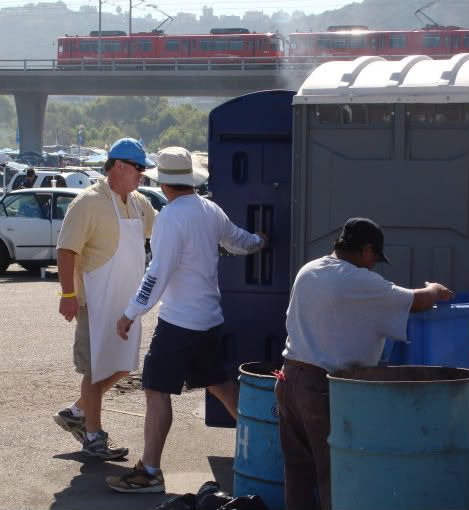 QUALCRETE STADIUM
This thing reminds me of the Roman Coliseum. Only older and worse.

SWOLLED UP
LT was kickin it with us in the parking lot for a few. This is what his ankle looked like an hour before game time. Had to sit him.

VISION QUEST
I'm overlooking the fact that somewhere, a blind person is bumping into shit because a guy wants to make people laugh in a parking lot. Made me laugh.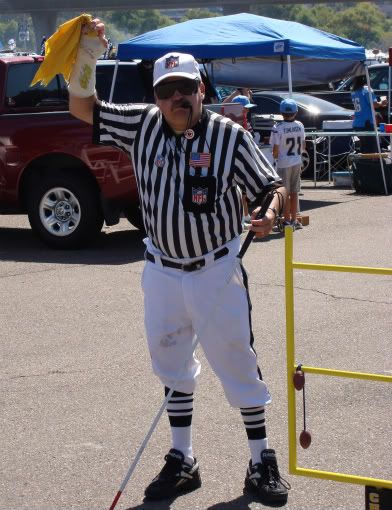 TRAVIS TWITT
I can't believe people still make the conscious decision to wear and maintain their hair like this. I gotta be honest, the whole mullet craze was a little too much. Got old REAL quick. But there was a point. I'm guessing this guy is a little slow on the uptake when it comes to a lot of phases in his life: cars, women, work, child support, the credit card payment for the tickets he just charged. Pretty sure I'm 5 for 5.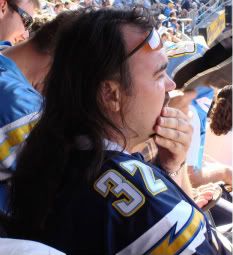 ROLL OUT
A cooler you can drive?? I love it! I almost cooler-jacked this fool and took off with his wheels. Seriously. I HAVE to get one of these. I'll ride it everywhere.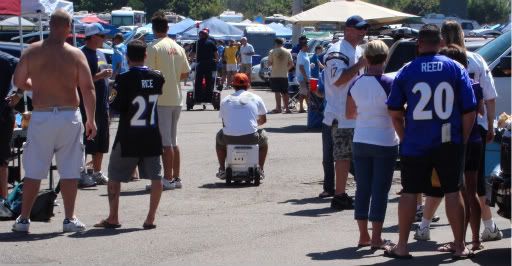 HIDDEN REFRESHMENT
I've heard of a pup tent, but a pee tent? This is one of the greatest things I've ever seen at a game! This is proof of evolution! No more long lines for the spot-a-pot. This thing was awesome and I gave it a run for its money. Thanks to the Chargers fans who let me use their tent to relieve myself liquidly. And a special shout out to the poor son of a bitch who had to empty it.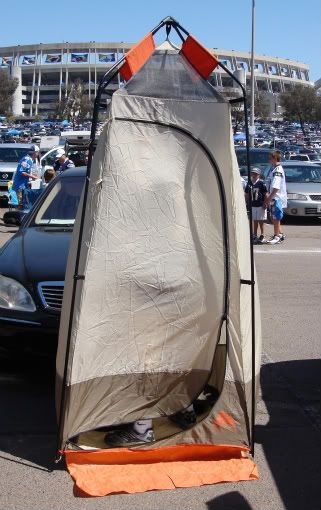 Next up, Cleveland!
Kuh Kaw!
– Ryan Sickler, Ravens Blogger