CLICK HERE FOR MY OFFICIAL NFL RAVENS BLOG
MY UNEDITED BLOG IS BELOW.
THE NFL HAS AN IMAGE TO UPHOLD. SO DO I.
I've been sick with the flu for a week now.  Feel like I've been nailed to my bed.  Not nailed in it but nailed to it – the difference between the two is HUGE.  Just like the difference between a good Ravens football team and a lousy one.
Sunday, I scraped myself out of bed and made my way to the couch to watch the Birds.  I wasn't sure if I'd see the dominating team that beat the Broncos or the team that lost to the Bengals earlier in the season.  I got my answer.  The Ravens played like I felt.  Like absolute dog shit.  From week to week, I have no idea which team is going to take the field.  The Ravens are still holding on – and I don't mean holding on to a shot at the playoffs – I mean holding on to the jerseys of every player that runs right past them.  And this time it wasn't just the defense.  The offense had their share of problems too.  But the DB's on this team are some of the worst I've ever seen play for the Ravens.
*Note to any NFL quarterback: if you wanna move the ball down the field on Baltimore, just put it in the air.  You probably won't get a touchdown that way, but you'll get a slew of pass interference penalties that will set you up nicely inside the red zone.  Then, you'll get the TD.
After the game, I went out on my balcony for some sun and fresh air and a little bird landed next to me.  We got to talkin.  He told me things were kinda rough in his life right now, not to mention winter is coming. He just lost a close friend in a freak accident. Said he was headed to FLA to chill and relax and think about things for a little while.  Then he flew away.  Just like that.  His friend's name?  Playoffs.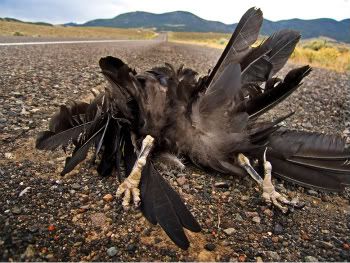 Run down, run over and run into the ground
This season isn't totally over but winning the AFC North is. There's a lot of football left to play and the Ravens can turn things around.  They need to get a grip on themselves and not every player on the opposing team.
Next up, Cleveland.  I know you think this is an easy one.  Guess again…
Kuh Kaw!
– Ryan Sickler, Ravens Blogger